Blockchain-based Supply Chain Management in the IoT Era
The Internet of Things (IoT) has revolutionized the way we interact with the world, and it has a significant impact on supply chain management. As companies strive to improve efficiency, transparency, and security in their supply chains, blockchain technology has emerged as a promising solution. In this article, we will explore the benefits of blockchain in supply chain management and how it is transforming the industry in the IoT era.
Understanding Blockchain Technology
Before diving into the specifics of blockchain in supply chain management, let's first understand what blockchain is. Blockchain is a decentralized and distributed digital ledger that records transactions across multiple computers. Each transaction is stored in a "block," and these blocks are linked together in chronological order, forming a chain.
Blockchain technology is known for its key features, such as transparency, immutability, and security. Transparency is achieved through the decentralized nature of blockchain, where all participants have access to the same information. Immutability ensures that once a transaction is recorded on the blockchain, it cannot be altered. Security is provided by cryptographic algorithms that protect the integrity of the data.
Benefits of Blockchain in Supply Chain Management in IoT Era
Transparency and Traceability

All participants in the supply chain have access to the same information on the blockchain, allowing for increased transparency.
Blockchain enables the tracking of goods from their source to the end consumer, providing a comprehensive view of the entire supply chain process.
This transparency helps identify bottlenecks, locate inefficiencies, and improve overall supply chain performance.
It also facilitates better inventory management and forecasting by providing real-time visibility into product movement.

Improved Security:

Blockchain technology ensures the security and integrity of data stored in the blocks.
The use of cryptographic algorithms makes the data tamper-proof and resistant to unauthorized modifications.
Each transaction recorded on the blockchain is verified and linked to the previous transaction, creating an unalterable and transparent chain of custody.
This security feature reduces the risk of fraud, counterfeit products, and unauthorized access to sensitive information.

Reduced Fraud and Counterfeit Products:

By providing a transparent and immutable record of transactions, blockchain helps in preventing fraud and counterfeit products in the supply chain.
Each product can be assigned a unique identifier recorded on the blockchain, allowing for easy verification of its authenticity and origin.
This verification process helps eliminate counterfeit products from entering the supply chain and provides assurance to customers about the genuineness of the products they purchase.

Efficiency and Cost Savings:

Traditional supply chain processes often involve manual paperwork, documentation, and intermediaries, leading to delays and additional costs.
By implementing blockchain, these processes can be automated through smart contracts.
Smart contracts are self-executing agreements triggered by predefined conditions.
They eliminate the need for intermediaries, streamline operations, and reduce costs associated with manual processes and paperwork.
This automation also improves efficiency by ensuring timely execution of tasks, reducing human errors, and minimizing delays in this chain.

Enhanced Collaboration and Trust:

Blockchain provides a decentralized and shared ledger accessible to all participants in this chain.
This shared infrastructure fosters collaboration, as all parties have access to the same information and can work together more effectively.
The transparency and trust provided by blockchain promote better relationships between suppliers, manufacturers, distributors, and customers.
It helps build trust and accountability among the stakeholders, leading to smoother supply chain operations and improved overall performance.
Blockchain-enabled IoT for Supply Chain Management in IoT Era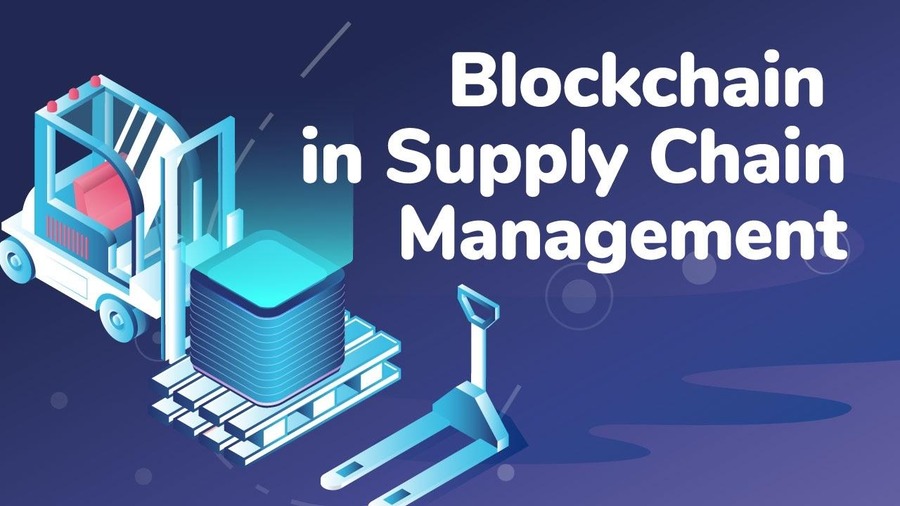 The integration of blockchain and IoT presents new opportunities for this management. In an IoT-enabled supply chain, various devices, sensors, and machines are interconnected to collect and exchange real-time data. By combining this data with blockchain technology, companies can create a secure and transparent ecosystem for managing their supply chains.
Smart contracts play a crucial role in the blockchain-enabled IoT supply chain. These self-executing contracts automatically trigger actions when predefined conditions are met. For example, when a shipment reaches a specific location, the smart contract can automatically update the blockchain, trigger payment transfers, and notify relevant parties. This automation reduces manual intervention, minimizes errors, and ensures timely execution of tasks.
Real-world Applications of Blockchain in Supply Chain Management in IoT Era
Track and Trace Solutions:

Blockchain enables end-to-end visibility of goods through track-and-trace solutions.
Each product is assigned a unique blockchain identifier that can be scanned by customers to trace its origin, manufacturing details, and transportation history.
This provides transparency and helps prevent counterfeiting by verifying the authenticity of products.
Customers can have confidence in the products they purchase, leading to increased trust and loyalty.

Authentication and Provenance Verification:

Blockchain stores detailed information about each step of the supply chain, including the origin of raw materials, manufacturing processes, and quality certifications.
This information can be securely accessed and verified by relevant parties.
Blockchain ensures the integrity of the data, making it reliable for authentication and provenance verification.
Companies can demonstrate compliance with regulatory standards and ethical sourcing practices, building trust among consumers and stakeholders.

Supplier Management and Compliance:

Blockchain can streamline supplier management processes by maintaining a decentralized ledger of supplier information.
Companies can validate supplier credentials, track performance, and ensure compliance with industry regulations.
This reduces the administrative burden and improves efficiency in managing supplier relationships.
The decentralized nature of blockchain provides a transparent and tamper-proof record of supplier information.

Quality Control and Auditing:

Blockchain can enhance quality control processes by recording and verifying data related to product quality and inspections.
Inspections, certifications, and quality control measures can be recorded on the blockchain, ensuring transparency and traceability.
Auditing becomes more efficient as auditors can access reliable and verifiable data directly from the blockchain.
This improves supply chain accountability and helps maintain consistent product quality.

Secure Payment and Financial Transactions:

Blockchain can facilitate secure and transparent financial transactions within the supply chain.
Smart contracts can automate payment processes based on predefined conditions, reducing the need for intermediaries.
This enables faster, more secure, and cost-effective transactions, enhancing financial efficiency in the supply chain.
Overcoming Challenges and Adoption Barriers
While blockchain holds tremendous potential for supply chain management, there are challenges and barriers to overcome for widespread adoption. Scalability and interoperability are significant concerns, as the volume of transactions in a global supply chain can be massive. Efforts are being made to develop scalable blockchain solutions and establish interoperability standards to enable seamless integration between different blockchain networks.
Standardization and regulatory concerns also pose challenges. With different industries and regions having their own regulations and standards, achieving consensus on a unified approach is crucial. Collaborative efforts between industry stakeholders, governments, and standardization bodies are necessary to address these challenges and create a conducive environment for blockchain adoption.
Moreover, education and awareness play a vital role in the adoption of blockchain in this management. Many businesses are still unfamiliar with the technology and its potential benefits. Educating decision-makers and providing practical use cases can help overcome skepticism and encourage adoption at a broader scale.
Future Trends and Outlook
Looking ahead, the integration of blockchain with emerging technologies will further enhance supply chain management. For instance, combining blockchain with artificial intelligence (AI) can enable predictive analytics, optimizing inventory management and demand forecasting. Similarly, integrating blockchain with the Internet of Things (IoT) will create a more interconnected and secure this ecosystem.
Industry-specific use cases will continue to drive blockchain adoption in supply chain management. Sectors such as food, pharmaceuticals, luxury goods, and automotive can benefit significantly from blockchain's capabilities. By ensuring product authenticity, reducing waste, and improving logistics, blockchain can revolutionize these industries and create new business models.
Conclusion
Blockchain technology has emerged as a game-changer in supply chain management, particularly in the IoT era. It offers transparency, security, and efficiency, addressing the limitations of traditional systems. By integrating blockchain and IoT, companies can create a secure and transparent ecosystem that enhances visibility, automates processes, and reduces costs. While challenges exist, the future looks promising, with emerging trends and industry-specific use cases driving the adoption of blockchain in supply chain management.
FAQs
1. How does blockchain improve supply chain transparency? Blockchain provides a decentralized and immutable ledger that enables all participants to view and track the transactions in real time. This increased transparency helps identify bottlenecks, reduce delays, and ensure accountability.
2. Can blockchain prevent counterfeit products in the supply chain? Yes, blockchain can help prevent counterfeit products by enabling traceability and verification of product authenticity. Each step of the supply chain is recorded on the blockchain, making it difficult for counterfeit goods to enter the system undetected.
3. What are the challenges in implementing blockchain in supply chain management? Some of the challenges include scalability, interoperability, standardization, and regulatory concerns. Overcoming these challenges requires collaborative efforts from industry stakeholders and the development of scalable solutions and interoperability standards.
4. Is blockchain suitable for small businesses? Yes, blockchain can benefit small businesses by streamlining supply chain processes, reducing costs, and enhancing transparency. However, small businesses may face resource and knowledge constraints when adopting blockchain technology.
5. How can blockchain benefit the food industry? Blockchain can benefit the food industry by providing end-to-end traceability, ensuring food safety, reducing waste, and improving supply chain efficiency. Consumers can verify the origin and quality of food products, promoting trust and safety in the industry.