EU will cut off 7 Russian banks from SWIFT, with ordinary Russians facing consequences
On Wednesday, the European Union announced that within 10 days, it intends to remove seven Russian banks from the Society for Worldwide Interbank Financial Telecommunication, or SWIFT, messaging system.
The list of sanctioned banks includes Russia's second-largest bank VTB, Bank Otrkitie, Novikombank, Promsvyazbank, Bank Rossiya, Sovcombank, and VEB. Without access to SWIFT, a Belgian messaging system that connects over 11,000 financial institutions worldwide, Russian banks, and by proxy, the Russian economy, is likely to endure severe losses. For example, Iran lost 30% of its foreign trade after being banned from SWIFT in 2012.
VTB stock price | Source: Yahoo Finance | Note: Trading is currently halted on the Moscow Stock Exchange
But in context, sanctions have more of a devastating impact on ordinary Russians than dictators themselves. Although no one knows for sure, estimates place Vladimir Putin's wealth at billions of dollars, meaning that the Russian president can still live a relatively lavish life even if a vast majority of his net worth is withered away via such punitive measures. 
However, the same cannot be said for the Russian people. According to data from XE, the Russian ruble has lost nearly 30% of its value since the invasion of Ukraine began one week prior. Economic repercussions are said to have devastated the savings of ordinary Russians. To make matters worse, the EU prohibited transferring euro banknotes to Russia the same day.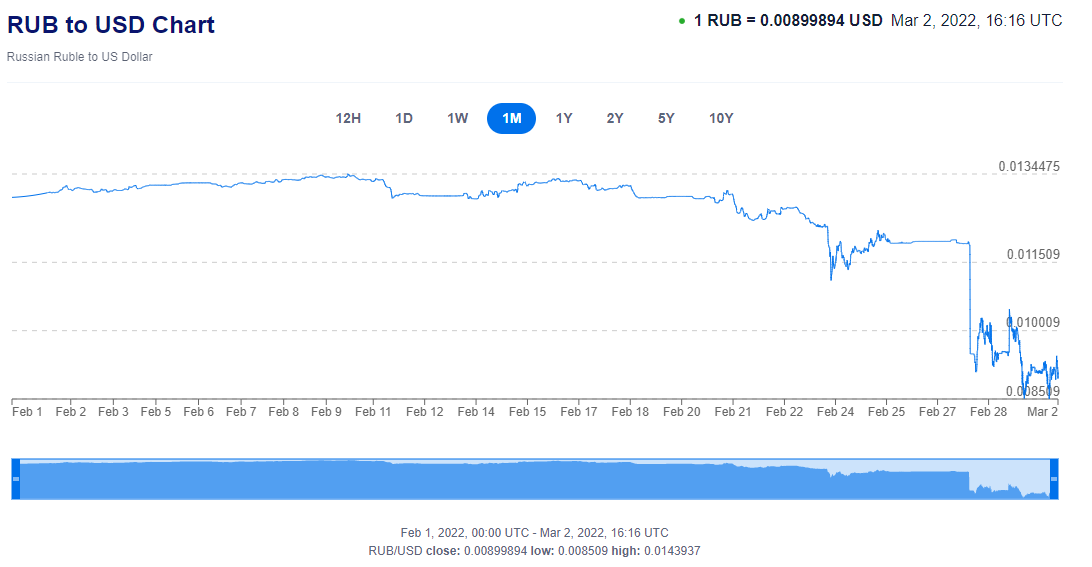 RUB to USD exchange rate | Source: XE 
Crypto trading volume is surging in part due to the high demand from Russia and Ukraine, where both countries are suffering severe risks of currency destabilization. Stablecoins, in particular, play a vital role in countries facing mounting sanctions. For example, Venezuelan émigrés described to Cointelegraph how they support their families still in the country by converting their local salary into Tether (USDT) via an app called Reserve, amidst ongoing hyperinflation. 
Regarding the same topic, "Ardashir," a crypto enthusiast based in Iran whose name has been changed to protect their identity, previously described to Cointelegraph how digital currencies had become a vital instrument of accessing services amidst sanctions against the country:
"We don't have Visa, MasterCard, or any type of credit card here. So thanks to Bitcoin and crypto, we can buy items like Xbox, Apple gift cards, VPNs, flight tickets, etc."
When asked about how crypto plays a role in combating the inflation of the Iranian toman, Ardashir added:
"If you want to buy, for example, a box of matches today, it's better to wait until tomorrow, when it would be much cheaper as the real value of the toman falls. People thereby want to save the value of their money with digital currencies."
The Russian ruble PLUNGED to a new all-time low of 122.24 RUB/USD while trading today. Conflict with #Ukraine is taking its toll on the ruble, which has now lost as much as 37.7% of its value against the USD since Jan 1, 2022. At present, I measure #Russia's inflation at 78%/yr. pic.twitter.com/wKO4hylHwA

— Steve Hanke (@steve_hanke) March 2, 2022