Event recap Austin's SXSW 2022: NFTs everywhere
South by Southwest, one of Austin's biggest festivals with exhibits from tech industry leaders, films and musical acts, kicked off its first weekend — and the theme for many seemed to be nonfungible tokens, or NFTs.
From Friday to Sunday, companies from Doodles to luxury car manufacturer Porsche offered NFT-themed exhibits to the thousands of attendees appearing in person in Texas. Many panels and workshops included discussions on how to create and store customized NFTs during the event, with firms like Blockchain Creative Labs offering an interactive experience across the street from NFT galleries and other meetups.
Three Cointelegraph team members were present for many of the events on-site, including designing personalized CryptoPunks at Ripple's house on Rainey Street after enjoying a crypto-themed cocktail. Fluf World, one of the largest exhibits at the festival, featured immersible experiences with digital characters and drew in many participants with its rabbit avatars and panels on Web3 and the metaverse.
Fluf World at SXSW pic.twitter.com/fqsgUeeVxy

— shinebright (@shine_bright434) March 14, 2022
Ben McKenzie, the actor known for his roles on TV shows including Gotham and The OC who has also spoken out against public figures endorsing crypto, hosted a panel at SXSW with The New Republic staff writer Jacob Silverman and Edward Ongweso of Vice Media. While McKenzie said the widespread use of crypto-related products at the festival seemed to be a marketing tool, Ongweso added that he saw a consistent theme to companies promoting NFTs:
"I just expected more interesting gimmicks, demonstrations, attempts to show the real use of value, something fascinating and interesting about it. Instead, a lot of it is really centered on a very narrow experience that will maybe woo you, but not much in thinking about how this can actually do anything other than make money for you, maybe if you're lucky."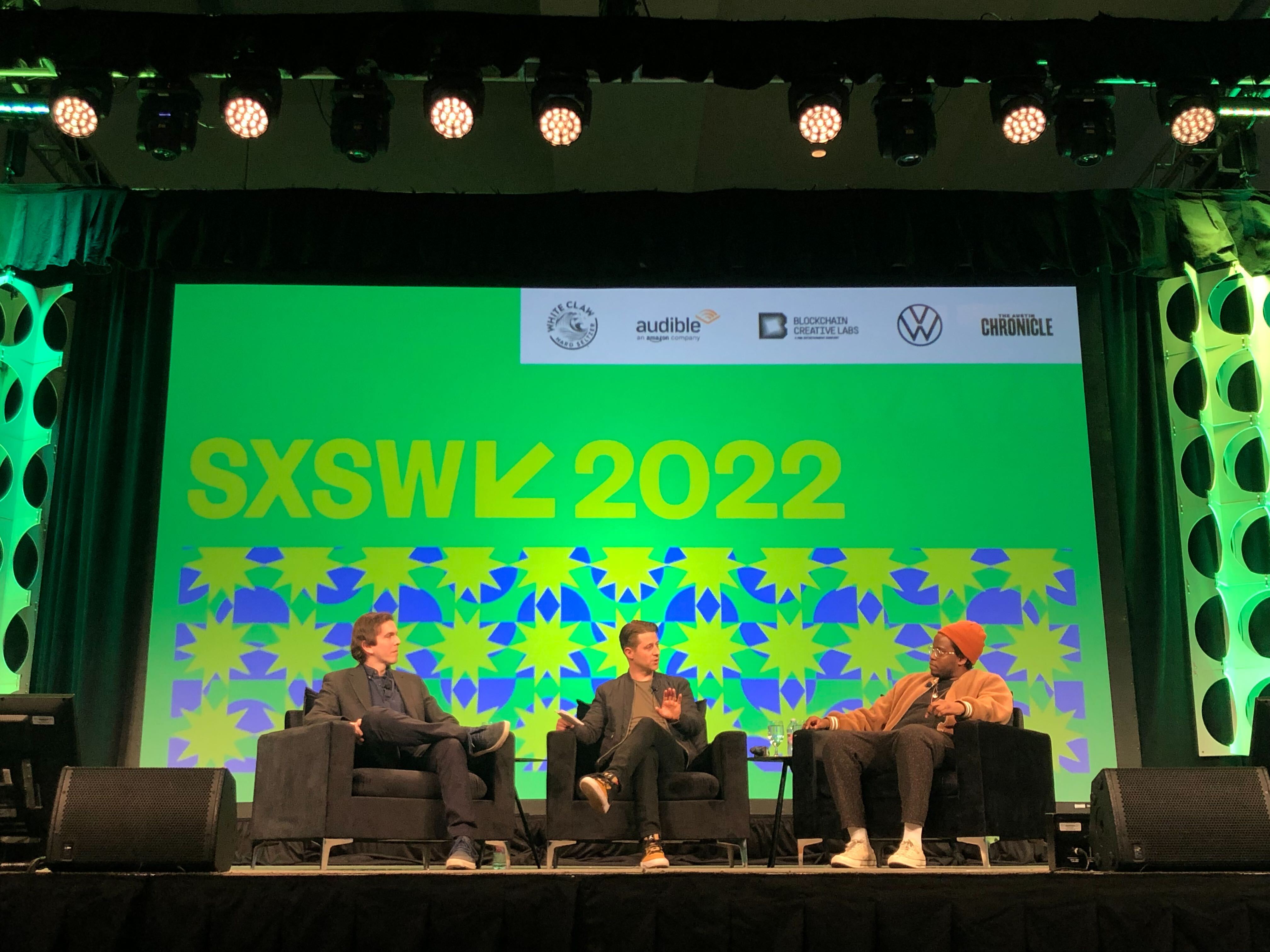 Austin Mayor Steve Adler also spoke alongside Miami Mayor Francis Suarez on how the two cities are handling the changes in culture by drawing in tech firms and a diverse array of people. Though Adler announced on Friday initiatives to study how Austin could adopt crypto-friendly policies and promote the benefits of blockchain technology, crypto wasn't the main topic of conversation outside of mentioning the city's recent partnership with CityCoins.
Related: Crypto City: Guide to Austin
Founded in 1987, Austin's SXSW festival drew in more than 400,000 people in 2019 before scaling back due to the COVID-19 pandemic. As the capital of the largest state in the contiguous United States, Austin has become a hub of major tech companies — earning it the nickname "Silicon Hills" — including Tesla's headquarters as well as the regional offices for Facebook and Google.