Creating Immersive Healthcare Experiences for Patients in the Metaverse
In today's rapidly evolving digital landscape, the integration of healthcare and technology has opened up exciting possibilities for transforming patient experiences. The concept of the Metaverse, a virtual reality space where individuals can interact with computer-generated environments and other users, offers a promising platform for creating immersive healthcare experiences. In this article, we will explore how the Metaverse can be leveraged to enhance patient care, improve accessibility, and foster a new era of healthcare delivery.
Introduction
The traditional healthcare system often faces challenges in delivering personalized and immersive experiences for patients. However, with the advent of the Metaverse, healthcare providers can now explore innovative ways to engage and support patients in virtual environments. By combining the power of technology and healthcare expertise, immersive healthcare experiences in the Metaverse can revolutionize the delivery of care, enhance patient outcomes, and empower individuals to take an active role in managing their health.
The Metaverse: A Gateway to Immersive Healthcare
1. Definition and Overview of the Metaverse
The Metaverse refers to a collective virtual shared space where people can interact with a computer-generated environment and other users in real-time. It goes beyond the traditional two-dimensional screens and immerses individuals in a three-dimensional virtual world. This immersive experience creates opportunities for enhanced communication, collaboration, and engagement, making it an ideal platform for creating immersive healthcare experiences.
2. Enhancing Patient Engagement and Education
Immersive healthcare experiences in the Metaverse have the potential to significantly improve patient engagement and education. Virtual reality (VR) and augmented reality (AR) technologies can be leveraged to create interactive and realistic simulations that allow patients to better understand their conditions, treatment options, and self-care techniques. By immersing patients in a virtual environment, healthcare providers can empower individuals to make informed decisions about their health and actively participate in their care journey.
3. Virtual Support Groups and Peer Connections
Living with a chronic condition or undergoing a difficult medical treatment can be emotionally challenging. The Metaverse provides a platform to establish virtual support groups and foster peer connections. Patients can interact with others facing similar health challenges, share experiences, offer support, and form a sense of community. This virtual support system can contribute to improved mental well-being and a sense of belonging among patients.
Telepresence Robots: Bridging the Gap between Physical and Virtual Care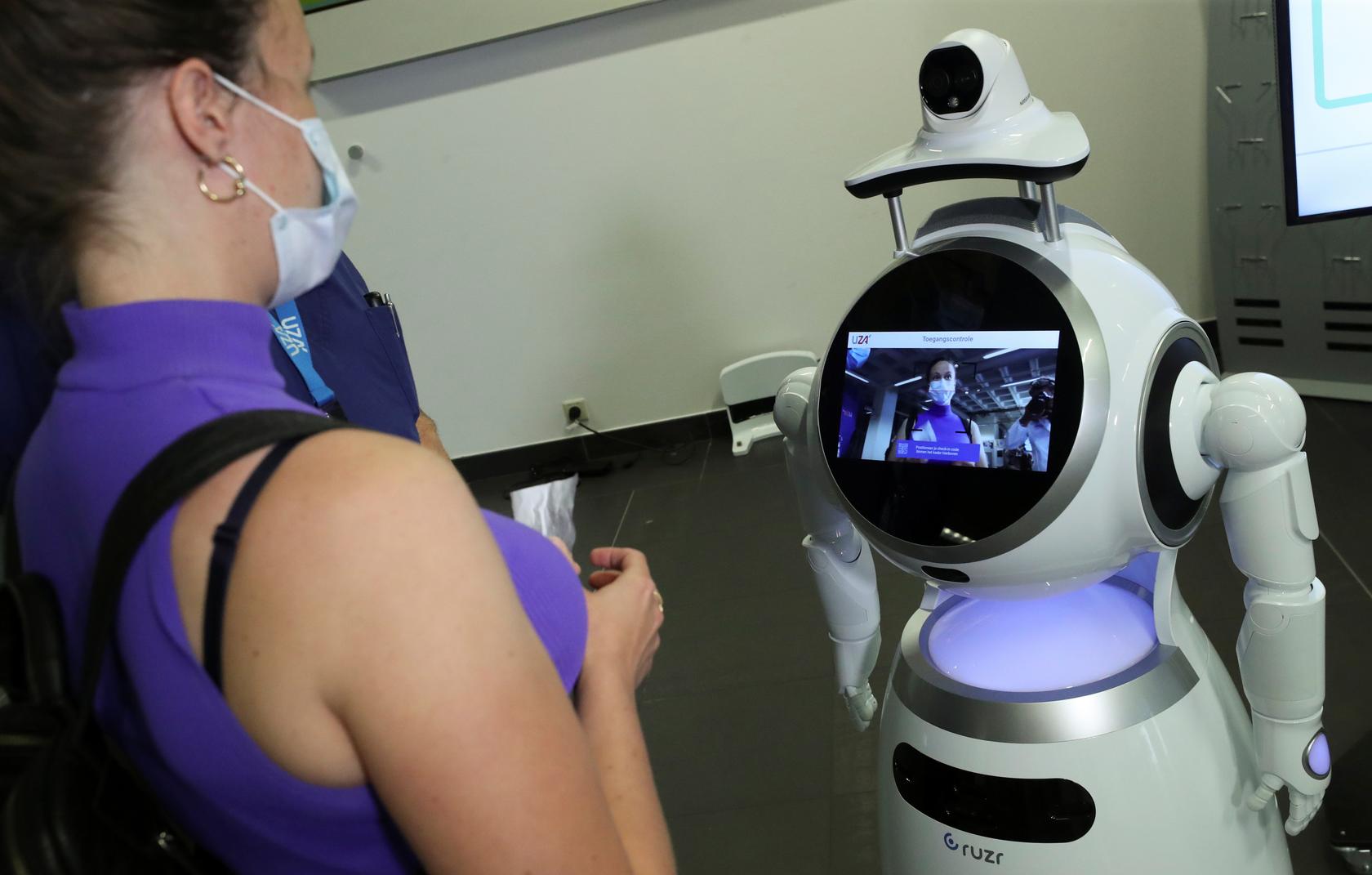 1. Leveraging Telepresence Robots for Remote Care
Telepresence robots play a vital role in bridging the gap between physical and virtual care in the Metaverse. These robots, equipped with cameras, screens, and speakers, enable healthcare providers to remotely interact with patients. Through telepresence robots, doctors can conduct virtual consultations, provide real-time guidance, and remotely monitor patients' vital signs. This technology not only enhances accessibility to healthcare services but also reduces the need for physical travel, saving time and resources for both patients and healthcare providers.
2. Robotic Assistance in Virtual Environments
In the Metaverse, telepresence robots can act as virtual companions and assistants, providing guidance and support to patients. These robots can help individuals navigate the virtual healthcare environment, access relevant information, and remind patients about medication schedules or self-care activities. The presence of a robotic companion enhances the overall patient experience, providing a sense of support and personalized care.
Overcoming Challenges and Ensuring Ethical Considerations
1. Technical Challenges and Infrastructure Requirements
Implementing immersive healthcare experiences in the Metaverse comes with its own set of technical challenges. The seamless integration of VR/AR technologies, reliable network connectivity, and user-friendly interfaces are crucial for creating immersive and accessible healthcare environments. Additionally, ensuring that the Metaverse infrastructure can handle the increasing demands of healthcare data and privacy concerns is essential for maintaining patient confidentiality and data security.
2. Ethical Considerations in Immersive Healthcare
As healthcare increasingly extends into virtual environments, ethical considerations must be addressed. The responsible use of patient data, ensuring informed consent, and maintaining patient privacy are critical aspects of immersive healthcare experiences in the Metaverse. Healthcare providers and technology developers must adhere to ethical guidelines and regulatory frameworks to ensure patient safety and trust.
Virtual Rehabilitation and Therapy
Immersive healthcare experiences in the Metaverse can be utilized for virtual rehabilitation and therapy. By creating virtual environments that simulate real-life scenarios, patients can engage in therapeutic activities, such as physical exercises, cognitive training, or exposure therapy for phobias. Virtual rehabilitation and therapy can enhance patient motivation, provide personalized interventions, and offer a safe and controlled environment for recovery.
Remote Monitoring and Telehealth Services
Immersive healthcare experiences in the Metaverse can facilitate remote monitoring and telehealth services. Through connected devices and sensors, patients can transmit real-time health data to healthcare providers, who can remotely monitor vital signs, medication adherence, and disease progression. Telehealth consultations can also be conducted within the virtual environment, providing convenient and accessible healthcare services to patients regardless of their physical location.
Virtual Training for Healthcare Professionals
The Metaverse offers a unique platform for virtual training and education for healthcare professionals. Using simulated scenarios and virtual patient encounters, healthcare providers can enhance their clinical skills, practice decision-making, and learn about new medical technologies and procedures. Virtual training allows for a safe learning environment, reduces the need for physical resources, and enables healthcare professionals to stay updated with the latest advancements in their field.
Gamification of Healthcare
Gamification can be integrated into immersive healthcare experiences in the Metaverse to motivate patients and enhance their engagement in their health and wellness. By incorporating game elements, such as challenges, rewards, and progress tracking, patients can be encouraged to adopt healthier behaviors, adhere to treatment plans, and actively participate in their own care. Gamification can make healthcare more enjoyable, interactive, and empowering for patients.
Virtual Support for Mental Health and Well-being
The Metaverse provides an opportunity to create virtual support systems and resources for mental health and well-being. Virtual therapy sessions, support groups, and mindfulness applications can be developed to address various mental health concerns. By providing access to virtual environments that promote relaxation, stress reduction, and emotional well-being, immersive healthcare experiences can support individuals in managing their mental health effectively.
Accessibility and Inclusivity in Immersive Healthcare
Immersive healthcare experiences in the Metaverse have the potential to improve accessibility and inclusivity in healthcare. Virtual environments can be designed to accommodate individuals with disabilities, providing equal access to healthcare services. Features such as customizable interfaces, audio descriptions, and haptic feedback can ensure that immersive healthcare experiences are accessible to a wide range of individuals, regardless of their physical or sensory abilities.
Remote Training and Support for Caregivers
Immersive healthcare experiences in the Metaverse can provide remote training and support for caregivers. Caregivers can learn essential skills, such as administering medication, providing first aid, or managing chronic conditions, through virtual training programs. Additionally, virtual support groups and resources can offer emotional support, guidance, and practical advice for caregivers who may face challenges and burnout.
Preventive Healthcare and Wellness Programs
The Metaverse can be leveraged to promote preventive healthcare and wellness programs. Immersive experiences can educate individuals about healthy lifestyle choices, disease prevention, and early detection of health conditions. Virtual wellness programs, such as exercise routines, stress management techniques, and nutrition education, can be customized to meet the specific needs of individuals and encourage long-term behavior change.
Research and Data Collection in Immersive Environments
Immersive healthcare experiences in the Metaverse can also facilitate research and data collection. Researchers can create virtual environments to conduct studies, collect data on patient behavior and responses, and gain insights into healthcare interventions. The ability to simulate scenarios and control variables in immersive environments can provide valuable data for medical research and improve our understanding of human health and well-being.
Empowering Patients through Shared Decision-Making
The Metaverse offers a platform for shared decision-making between healthcare providers and patients. Immersive healthcare experiences can enable patients to explore treatment options, visualize the potential outcomes, and actively participate in the decision-making process. By empowering patients to make informed choices about their care, immersive experiences promote patient autonomy, satisfaction, and better health outcomes.
Cybersecurity and Data Privacy in Immersive Healthcare
As immersive healthcare experiences rely on technology and data exchange, ensuring cybersecurity and data privacy is paramount. Robust security measures must be in place to protect patient information, prevent unauthorized access, and maintain the integrity of healthcare systems in the Metaverse. Compliance with regulations and guidelines, such as HIPAA, is essential to maintain patient trust and confidentiality.
Collaborative Research and Global Healthcare Partnerships
Immersive healthcare experiences in the Metaverse can foster collaborative research and global healthcare partnerships. Researchers, healthcare providers, and industry experts from around the world can connect virtually, share knowledge, and collaborate on innovative healthcare solutions. This collaboration can lead to the development of cutting-edge technologies, best practices, and global standards in healthcare delivery.
Conclusion
Immersive healthcare experiences in the Metaverse have the potential to revolutionize patient care, engagement, and accessibility. By leveraging virtual reality, augmented reality, and telepresence robots, healthcare providers can create personalized and immersive environments that empower patients to take control of their health. However, it is crucial to overcome technical challenges and address ethical considerations to ensure the responsible and effective implementation of immersive healthcare in the Metaverse. As technology continues to advance, the possibilities for immersive healthcare experiences will continue to expand, opening up new horizons for patient-centered care.