Overcoming Voter Apathy with Blockchain
Introduction
In today's fast-paced world, one of the biggest challenges faced by democracies is voter apathy. Many citizens feel disconnected from the political process, leading to low voter turnout and a diminished sense of civic engagement. However, with the advent of blockchain technology, there is a new opportunity to overcome voter apathy and revitalize democracy. This article explores how blockchain can be leveraged to enhance transparency, security, and accessibility in the voting process, ultimately empowering citizens and strengthening democratic systems.
Understanding Voter Apathy
Definition
Voter apathy refers to the lack of interest or motivation among eligible voters to participate in the electoral process. It stems from various factors, including disillusionment, perceived lack of impact, and the complexity of the voting process itself. Understanding the root causes of voter apathy is crucial for finding effective solutions.
Causes
Voter apathy can be attributed to several causes. Firstly, a sense of disconnection from political leaders and parties may arise from the belief that one's vote does not make a difference. Moreover, complex registration and voting procedures can be time-consuming and confusing, discouraging individuals from engaging in the process. Additionally, a lack of trust in the electoral system and concerns over security and fraud further contribute to voter apathy.
The Role of Blockchain
What is Blockchain?
Blockchain is a decentralized and transparent digital ledger that records transactions across multiple computers. It eliminates the need for intermediaries, such as banks or governments, by creating a secure and immutable record of transactions. This technology has gained significant attention due to its potential to transform various industries, including finance, supply chain management, and now, voting.
Benefits of Blockchain
Blockchain offers several key benefits that can address the challenges of voter apathy. Firstly, its decentralized nature ensures that no single entity controls the voting process, enhancing transparency and eliminating the possibility of manipulation. Additionally, the immutability of blockchain records makes it nearly impossible to tamper with votes, ensuring the integrity of the electoral system. Furthermore, blockchain's ability to create smart contracts can streamline registration and voting procedures, simplifying the process for voters.
Blockchain technology offers numerous benefits across various industries. Some key advantages of blockchain include enhanced security, transparency, and decentralization. The decentralized nature of blockchain eliminates the need for intermediaries, reducing costs and increasing efficiency. The immutability of blockchain records ensures tamper-proof transactions and prevents fraud. The transparent and auditable nature of blockchain builds trust among participants. Additionally, blockchain enables faster and more secure transactions, streamlines processes, and facilitates greater accessibility and inclusivity. Overall, blockchain technology revolutionizes industries by providing secure, transparent, and efficient solutions.
Blockchain in Voting
Enhancing Transparency
Blockchain technology enables real-time tracking and auditing of the entire voting process. Every vote and transaction is recorded on the blockchain, providing a transparent and verifiable record that can be accessed by all stakeholders. This transparency builds trust among citizens and eliminates doubts about the legitimacy of the electoral outcomes.
Ensuring Security
One of the critical challenges in the traditional voting system is ensuring the security and privacy of votes. Blockchain addresses this concern by leveraging cryptographic techniques to secure transactions. Each vote is encrypted and linked to the voter's digital identity, ensuring anonymity while preventing double voting or tampering. This robust security framework instills confidence in the electoral process and encourages higher participation.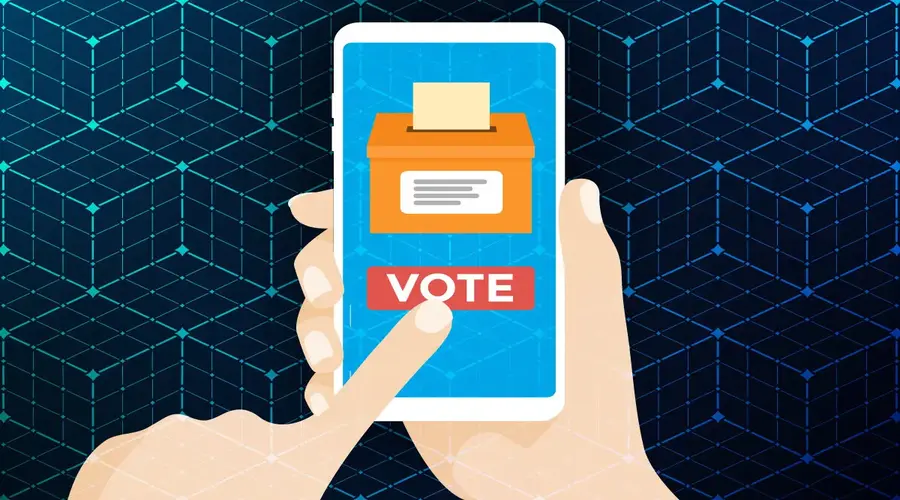 Overcoming Voter Apathy
Increasing Accessibility
Blockchain technology can greatly enhance the accessibility of voting. Traditional voting methods often pose barriers for certain segments of the population, such as overseas citizens, disabled individuals, or those facing logistical challenges. By implementing blockchain-based voting systems, these barriers can be overcome, allowing citizens to vote securely and conveniently from anywhere in the world.
Building Trust
Trust is a crucial element for encouraging voter participation. Blockchain's transparency and security features build trust by ensuring that votes are accurately counted and protected. Citizens can have confidence in the integrity of the electoral process, motivating them to exercise their right to vote and actively engage in democracy.
Case Studies
Estonia's e-Residency
Estonia, a pioneer in e-governance, has successfully implemented blockchain technology in its voting system. Through its e-Residency program, the country offers digital citizenship to anyone, regardless of their physical location. This program allows Estonians to vote securely from anywhere in the world, eliminating the need for physical polling stations and expanding access to voting.
West Virginia's Pilot
In the United States, West Virginia conducted a pilot project utilizing blockchain in the 2018 midterm elections. The state implemented a mobile voting platform that leveraged blockchain technology to enhance security and transparency. The project demonstrated the potential of blockchain in modernizing the electoral process and increasing voter engagement.
Challenges and Concerns
Privacy Concerns
While blockchain provides a secure and transparent platform for voting, concerns about privacy and the exposure of personal information remain. Striking the right balance between transparency and privacy is crucial to ensure that citizens' personal data is protected while maintaining the integrity of the voting process.
Technological Barriers
Implementing blockchain-based voting systems requires robust technological infrastructure and widespread digital literacy. Not all regions or countries may be ready to adopt this technology due to technical limitations or lack of resources. Overcoming these barriers is essential to ensure the equitable implementation of blockchain voting solutions.
Future of Blockchain Voting
The use of blockchain in voting is still in its early stages, but the potential for transformation is immense. As technology continues to evolve, we can expect further advancements in blockchain-based voting systems, making them more accessible, secure, and user-friendly. The future of voting lies in leveraging technology to empower citizens and strengthen democratic processes.
The future of blockchain voting holds immense potential for transforming the way we participate in democratic processes. Here are some key pointers on what the future holds for blockchain voting:
Increased Accessibility: Blockchain-based voting systems will enable citizens to vote securely and conveniently from anywhere in the world, eliminating geographical barriers and expanding access to voting.
Enhanced Security: With its decentralized and immutable nature, blockchain provides a robust security framework for voting. It ensures the integrity of votes, prevents tampering, and builds trust in the electoral process.
Improved Transparency: Blockchain's transparent and auditable nature allows for real-time tracking and verification of votes. This transparency increases trust among citizens and ensures the legitimacy of electoral outcomes.
Streamlined Processes: Blockchain technology can simplify registration and voting procedures through the use of smart contracts. This streamlining reduces administrative burdens and makes the voting process more efficient.
Verifiable and Immutable Records: Blockchain creates a permanent and tamper-proof record of votes, providing an auditable trail for verification. This feature enhances the accuracy and accountability of the voting process.
Integration with Emerging Technologies: Blockchain voting can be integrated with other emerging technologies such as biometrics or mobile applications, further enhancing accessibility and security.
Improved Civic Engagement: By leveraging blockchain's features, voting systems can be made more engaging and interactive, encouraging higher voter turnout and increasing citizen participation in democratic processes.
International Adoption: As more countries and regions explore blockchain voting solutions, we can expect greater international adoption, leading to standardization and interoperability among different voting systems.
Continued Technological Advancements: With ongoing research and development, the future of blockchain voting will witness technological advancements, making the systems more user-friendly, efficient, and scalable.
Strengthening Democracy: Ultimately, the future of blockchain voting holds the promise of strengthening democracy by empowering citizens, ensuring trust in the electoral process, and increasing overall civic engagement.
Conclusion
Voter apathy is a significant challenge for democracies worldwide. However, blockchain technology offers a promising solution to overcome this issue. By leveraging the transparency, security, and accessibility of blockchain, we can revitalize the voting process, restore trust, and encourage active citizen participation. As we embrace the future of blockchain voting, it is essential to address challenges, ensure privacy, and foster technological readiness. Together, we can create a more engaged and inclusive democracy.
FAQs
Q1: How does blockchain increase transparency in voting? Blockchain technology records every vote and transaction on a decentralized digital ledger, allowing for real-time tracking and auditing. This transparency ensures that the voting process is visible to all stakeholders, reducing doubts about the legitimacy of the results.
Q2: Can blockchain-based voting systems prevent voter fraud? Yes, blockchain-based voting systems have the potential to significantly reduce voter fraud. Blockchain's immutability and cryptographic security measures make it extremely difficult to tamper with votes or engage in fraudulent activities.
Q3: Will blockchain-based voting systems eliminate the need for physical polling stations? Blockchain-based voting systems have the potential to eliminate the need for physical polling stations. Citizens can securely vote from anywhere using their digital identities, increasing accessibility and reducing logistical barriers.
Q4: Is blockchain voting only suitable for technologically advanced countries? While implementing blockchain-based voting systems requires technological infrastructure, it is not limited to technologically advanced countries. With the right investments and initiatives, any country can adopt and leverage blockchain technology for their voting processes.
Q5: How can blockchain-based voting systems ensure voter privacy? Blockchain-based voting systems can ensure voter privacy through the use of encryption and anonymity. Votes are linked to a voter's digital identity, providing anonymity while keeping the vote securely encrypted.